Summit On The Summit &The Clean Water Crisis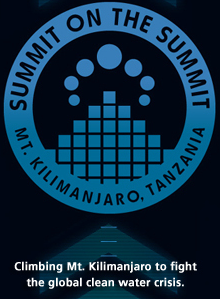 Normally on this blog I do Ways To Save, Reviews, Giveaways, and Ways To Make Money. Right now I want you to think about something. You can get right up and walk to your kitchen and get a glass of good, cold, and most of all CLEAN water. Do you realize how lucky we are? There are over ONE BILLION people who do not have access to clean drinking water. ONE BILLION. The most that are affected are children. Unsafe water and lack of sanitation is the largest cause of illness worldwide. Water-related diseases are the leading cause of death.
Right now at this moment Kenna, Lupe Fiasco, Jessica Biel, Emile Hirsch, Isabel Lucas and many more are climbing Mt. Kilimanjaro to stress the importance of the Clean Water Crisis. How can you help?
Donate
. 1 cent equals 1 liter of clean safe drinking water.
Learn More
. Spread The Knowledge.