Officially nervous for my husband.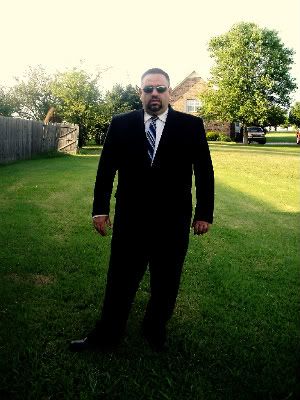 The love of my life is 11 years older than me. The age difference hasn't bothered us except when it comes to music. I'm more of a 90s grunge child and he's and 80's rap kinda guy. "Big Daddy" as I affectionate refer to him is the best husband a wife could ask for. Sweet, kind, romantic, and most of all forgiving. This morning he went for a "stress test". The first one he's ever had. I played my part well Smiling, saying "Everything will be alright", but in all honesty I am scared to death. What if something happens? What is something goes wrong? My husband is my hero, my rock, my strength. I can't even breathe when I think about it. So everyone please keep him in your thoughts this morning. I will update when he gets home.
***UPDATE***
He got home about 3 hours later and everything went fine. He said his knees were tired more than anything. His heart rate jumped a little in the beginning of the test, but the tech said it only proves that he needed to get in shape. Which we all could use that now lol. I told him how worried I was about the whole thing and he said "Well why didn't you tell me?" I was like DUH they call it a STRESS test for a reason and I didn't want to add any stress. So the rest of the day we spent being lazy catching up on some TV shows and movies. Thanks for all the positive thoughts and well wishes! They were really appreciated!