Ways To Save: Freshdeals.com

You know me. Anytime there is a new website out that helps me save I'm ALL about it. It's
http://freshdeals.com/
. Say you are looking for stroller for your little one just type that into the search bar and wah-la you get this:
http://freshdeals.com/prods/strollers.html
Which not only shows the latest in pricing, stores where it is located, and member comments or questions. Neat huh? Now I don't have to scour newspapers or go to different stores trying to price match.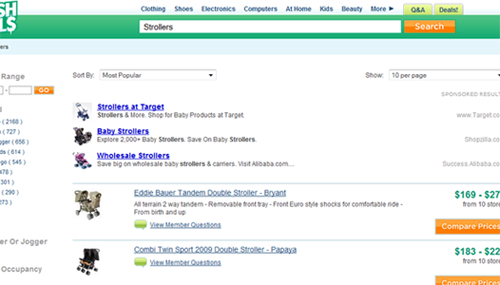 From their website: "
Fresh Deals is a refreshing new way for shoppers to find and share the latest online deals. We've spruced up your average shopping experience by offering a mix of fresh features including intuitive search and our thriving Questions & Answers community. Shoppers often have questions regarding the products they want to buy, but product reviews don't always have the answers. Our community of experts can answer a wide range of product questions, strengthening consumer confidence when it comes time to purchase. Never settle for stale shopping again. Start fresh. Shop Fresh Deals
."
So next time you are looking for the cheapest or the best deal for
handbags
,
laptops
,
kids clothing
, or anything else; make sure you check out
Fresh Deals
first.