Review: Marcal Small Steps

As a blogger I ofter get a chance to highlight up and coming products and brands. It's not often that a brand has the "whole" package, but
Marcal
achieves this.
Marcal
invites you to take their Consumer Pledge:
I am only one person.
But what I do impacts the whole world.
I have decided that the health of the earth is important
to me. I have decided to honor this priority in small ways.
If I can share a ride or take public transportation to
help save the air, I will.
If I can make everyday choices that help save energy, I will.
If I can choose recycled paper that help save the forests
and wildlife habitats, I will.
Wow. I took their pledge will you? Now onto some fabulous
Marcal
products.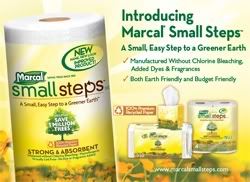 I had the opportunity to try out
Marcal's
Paper Towels, Toilet Paper, Napkins, and Tissues. Not only are great for the environment, but they are durable, sturdy, and great to use. They feature just the right combinations of strength, absorbency and softness to handle every job your household has. Plus they are hypoallergenic, virtually lint free, and whitened without chlorine bleaching. Great product and a great company what more could you ask for?