Lands' End Feel Good Story: Help a Family in Need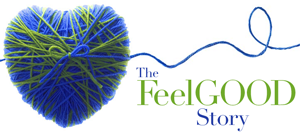 With Fall coming up a number of families will be cold. Whether in shelters, out on the streets or even in their own homes. I am helping
Lands' End
to kick off The FeelGOOD campaign and you can help too! This initiative is a terrific way to shop and feel good about giving to homeless individuals and families across the country. Beginning September 1st, for every
Lands' End
FeelGOOD sweater purchased, the company will donate FeelGood yarn to One Heart Foundation's Warming Families, a nationwide knitting charity. The yarn will be distributed so that we as a community can knit hats for the homeless or displaced.
Lands' End
expects to donate thousands of pounds of yarn for Warming Families volunteers to knit up to 25,000 hats for the men, women and children across the country who need them most.
How You Can Help:
Help Lands' End spread the word about the campaign and the FeelGood collection. For every blog post about the collection until September 16 (realize that's right around the corner) we will donate a cone of FeelGood yarn to volunteer knitters at Warming Families. One cone of FeelGood yarn is enough to make 28 hats to be donated to homeless individuals in communities across the country.
Buy a FeelGOOD Sweater from Lands' End (believe me they are SUPER comfy!)
Join the twitter party on the 16th. Use hashcode #landsend
Help out at your local shelter
Donate you and your kiddos old clothes and coats
Upcoming FeelGood Twitter Party:
Join Lands' End and Vickie Howell, host of TV's Knitty Gritty, for a Twitter Party to celebrate the kick-off the FeelGood Campaign! The party will feature more than 20 fun giveaways ranging from the FeelGood sweater and Vickie Howell's books to Lands' End gift cards and FeelGood yarn.
Date: Wednesday, September 16th
Time: 7:00 p.m. until 9:00 p.m. CST
Hashtag: Location: #landsend