Review: Southern Brand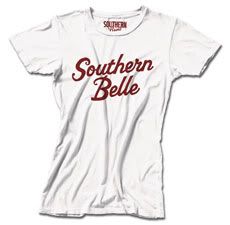 As you can tell from the title of my blog I am a Southerner through and through. For the good and the bad I guess. :) So when I had an opportunity to choose a shirt from Southern Brand I let my own Southern Bella pick it out. Of course she picked her namesake: "Southern Belle" shirt. It is SUPER SOFT! Plus it has been put through an extensive Vintage Wash process to give it that Authentic Vintage look. Made with 100% Cotton and Printed with vegetable inks and non-formaldehyde discharges. So green for the environment too! You can't beat that!



Do you have an iphone, ipod, itouch, or other Mp3 player? Why not think about getting the new Southern Brand Cowhide Cover? It would definitely make a statement! Made from beautiful and diverse premium tri-color Brindle cowhide, each cowhide slip cover is hand-made and one-of-a-kind. The inside is super-soft suede and they¹re backed with a smooth chocolate tanned leather. Also available in for Texas Longhorn hide an even tougher look.

WAYS TO SAVE: Enter the code BELLE and receive 10% off their order.

Keep checking in with Southern Bella's Ways To Save for a chance to win your very own
Southern Brand t-shirt!