Review: Kodak Zi6 Pocket Video Camera
The very first party I went to at BlogHer '09 was SocialLuxe Lounge. It set the tone. Everyone I met was super friendly and I got to interact with a few Brand Ambassadors while there. I was one of the few who waited in line for the Swag Bag and one of the things in it was the AWESOME KODAK Zi6 Pocket Video Camera!!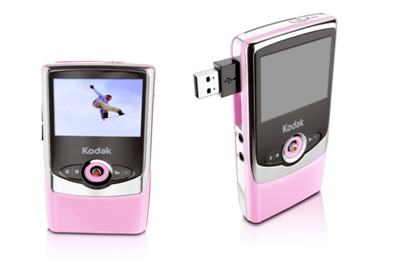 "The KODAK Zi6 Digital Video Camera allows for instant capturing of all your families moments in real time! You can shoot and share high-definition video with easy upload capabilities to YouTube™ and other social networking sites. You can also edit, add music and personalize each moment with Kodak's built-in software on-the-go. Record stunning 720p HD videos anywhere, anytime"


The thing I liked the best about the Zi6 is how small it is. I can store it in my purse like a phone then pop it out to capture a moment to remember. Plus unlike other Video Cameras it's

SUPER

easy to use. Point and shoot. Just like a camera. Then when you want to transfer the video to your computer you just click a button to pop the USB out and plug it up to your computer. Then you are done! You can also add an SD card and then you would be able to capture

NINE

hours of video. Out of all the Pocket Video Cameras out there. The KODAK Zi6 Pocket Video Camera!! is by far the best!