Review: Divvies Cupcakes, Cookies, Popcorn & Candy

In today's world allergies are an every day part of life. It's hard for kids to be tempted by wonderful cupcakes, popcorn, cookies or candy and not being able to eat it. That's where Divvies comes in. Every one of Divvies products have no nuts, no eggs, no dairy. Isn't that great?!? The kiddos can run to the cabinet and grab a snack without having to worry about it! Plus every single Divvies product I have tried has tasted great! Seriously! I'm picky about Sugar Cookies, but these were soooo good that everyone was hiding them and fighting for them lol.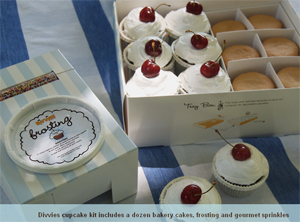 "Divvies cookies, popcorn and cupcakes (not including sprinkles and frosting) are made in the company's-own dedicated facility where no peanuts, tree nuts, milk or eggs enter the doors. And Divvies uses ingredients that are certified allergen-free. Divvies candies, frosting, and sprinkles are certified by their manufacturers to be peanut-, tree nut-, milk-, egg-free, and sesame-free and are packaged in Divvies Bakery. Divvies conducts routine testing to minimize the risk of any cross-contamination in their certified allergen-free ingredients."