Review: Microplane Sweet Feet Gift Set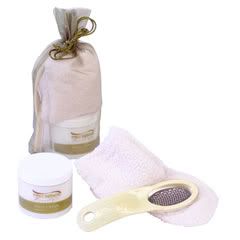 Feet. You got them, I got them, everyone has them and sometimes they need a little work. When the Ped Egg came out I thought it was the best invention ever! Until now. I had a chance to review the Microplane® Sweet Feet Gift Set. One my big pet peeves with the Ped Egg was that you couldn't get a good grip with the foot file. With Microplane's® foot file you actually have a handle for greater ease in reaching all areas of your feet. How does it work? It uses a variation of the patented Microplane® Grater technology and the dead skin comes right off, leaving the baby soft skin below. Sounds great doesn't it? After 1 use my feet felt smooth as can be.

Also in the Microplane® Sweet Feet Gift Set was the Citrus Feet Cream. It was lovely! After you have used the foot file you smooth on some of this to moisturize your feet. It also penetrates sore muscles with analgesic action. With Key Ingredients: Vitamins A, E, Sweet Almond, Peppermint, Oils, Tea Tree Oils, Menthol Eucalyptus, MSM. Its a perfect combination!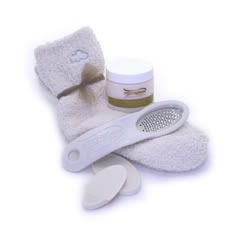 Last, but not least were the World's Softest Spa Socks. A perfect ending. After the foot file and the cream you put these super soft socks on and you are done! IT helps speed up the moisturizing without messing up your couch, sheets, etc. Made out of: 97% Polyester, 3% Lycra® Spandex.

Overall I give the Microplane® Sweet Feet Gift Set 2 thumbs up! You can get the entire gift set for only $29.95. So go get yours today! Keep checking back in with Ways To Save for a chance to WIN your very own gift set!