Review: Livie & Luca Shoes
My daughter Isabella gets it honest. We LOVE shoes! Sandals, heels, wedges, or rain boots. We are not picky! So when I told her she would get to review a pair of Livie & Luca shoes she was ecstatic! The great thing about Livie & Luca shoes are that they are lightweight, soft, super flexible and most of all affordable. With Bella's feet growing rapidly that is a huge plus for me. Not to mention that they are modern and funky so that she can showcase her inner fashionista!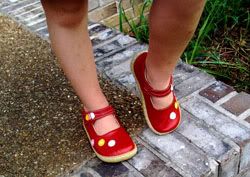 We got to try out the Red Fun Dots and loved them! All Livie & Luca shoes are made by hand for that wonderful Artisan touch. Not only are they made of high quality leather in super fun designs, but they are comfortable! For me that means a lot! Keep checking back in with Ways To Save for a chance to win your very own pair of shoes!