Review: J.R. Watkins Natural Home Care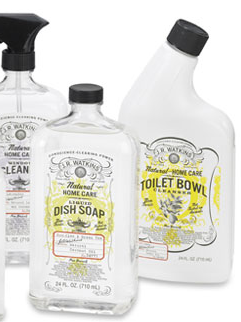 As a Mom I am always looking for healthier products to clean with. That's why I jumped at the chance to review J.R. Watkins Natural Home Care line. My daughter and I both suffer from allergies so we are always interested in cleaning products that are All Natural. Everything in J.R. Watkins Natural Home Care line are plant based cleaners that are safe for you and the environment. Today the are environmentally friendly and readily biodegradable. These ultra concentrated cleaners are naturally derived so they are easy on the environment, your home and your loved ones. Here's our brand commitment:
•Ammonia Free
•Animal Ingredient Free
•Benzene Free
•Bleach Free
•Boron Free
•Butyl/Ethyl Cellosolve Free
•Diethylene Ether Free
•Dye Free
•Formaldehyde Free
•Isopropanol Free
•Kerosene Free
•Mineral Spirit Free
•Non-toxic
•Paraben Free
•Petrochemical Free
•Phthalate Free
•Phosphate Free
•Phosphoric Acid Free
•Propylene Glycol Free
•Sodium Lauryl Sulfate Free
•Sulfuric Acid Free

Wow! That's a lot! Half of those ingredients are in your everyday products and I can't even name half of them let alone know what they are for! So make a pledge to yourself and your family. You don't have to change EVERYTHING all at once. Just try one healthier product. Every little bit helps right?