Review: Green Toys Tea Set

Everyone is trying to do their part with the environment and Green Toys helps you while still offering your kiddos a fun toy! Green Toys main ingredient? Recycled Milk Jugs! Next, the milk containers are reprocessed into super clean fresh plastic. The plastic material they use is called high-density polyethylene (or HDPE). This material is considered one of the safest, cleanest plastics around.PLUS they are made in the USA. PLUS even their packaging is Earth-friendly and ready for your recycling bin. You can't go wrong with Green Toys.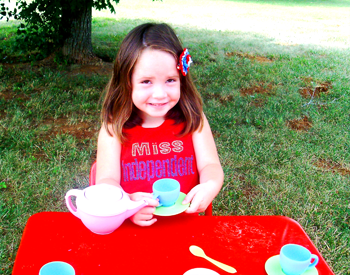 We received the 17 piece Tea Set from Green Toys. Isabella loved it! We had our very own Tea Party on the 4th. We got a little carried away so it got pretty dirty, but I just threw them in the dishwasher and they came out just like new! They carry quite a few fun toys for Boys AND Girls. From the Tea Set, Dump Trucks, Chef Set, EcoSaucer, Sand Play Set, and more. Check out Green Toys for more information and remember to keep checking back in with Ways To Save for your chance to WIN your very own Green Toys Tea Set!