Review: eebees adventures

Who is eebee? Eebee is a combination of every baby. He's a new fun character for your youngest kiddos to have adventures with. The adventures are designed to show your baby how fun even exploring real stuff can be while teaching them colors, letters, shapes, and more.

We got a chance to review Eebee's Adventures DVDs. Since my kiddos were too big I let my nephew watch them. He LOVED them. He is just starting sentences and he asks his Mom every morning if "I'm watch Eebee K?" It is so cute. Both my sister and I feel good about letting him watch this because he is learning while watching, but in a fun way. His favorite DVD is All in A Day's Play. Eebee and some other babies just play wih regular stuff around the house. Spoons, pots and pans, and even socks. Seriously how many times has your kiddo loved the box and paper the toy came in rather than the toy itself?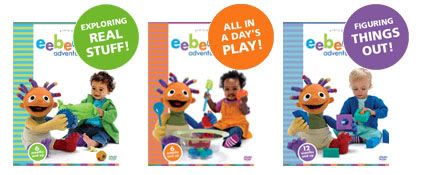 Overall I really enjoy all things eebee. I think he could be the Next Big Thing. It engages your kiddos while learning so go get your eebee on today! Keep checking in with Southern Bella's Ways To Save for your chance to WIN your own Eebee's Adventures DVDs.