Review: Kajeet The Cell Phone For Kids

So about 3-4 months ago my son (8) came to me and my husband for a "serious talk". At this point we looked at each other and just knew we were in trouble. The next sentence came out of his mouth so fast we didn't even understand him. "IthinkI'moldenoughforaphone.CanIgetoneformybirthday" Automatically I said A Phone? No you are only 8 years old. Nope. Nadda. No Way. Then I started looking around. The neighbors kids have one. Both of his cousins have one. His friends have one. I still was skeptical. Then I looked at Kajeet. All of the worries I had as a "Mom" were outweighed.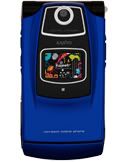 Kajeet offers Parents the option of control. You can control WHEN they use their cell phone. My son can't use from 9pm-8am. You can control WHO your child talks to and who to block. You can control HOW long your child talks on the phone buy adding money to their wallet for minutes. The most important feature of all is you can FIND your child via GPS tracking on their phone. With No Contract, No activation Fees, No Bill it is perfect started cell phone for my son and teaches him about responsibility.

How much is it? You can look at the different service plans We opted for the $9.99(FREE first month) GPS feature, $4.99 Monthly Service Pack, and the $4.99 200 txt messages. We are doing this as a test and if he uses his phone responsibly we will up his minutes and/or txt. Don't just take my word for it though! Here is Gabriel talking about what a great service Kajeet is.