And The Winner Is.....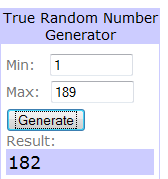 The winner of the OFF!® PowerPad® Lamp is post # 182 Marinalane. CONGRATS! I'll email you and get your address so I can send you this fabulous lamp! Her comment was "We live in South Carolina and are already being "munched" on. This would be GREAT to have!" A BIG thank you to everyone who entered and keep checking back in with ways to save for more great contests!

****I never heard from the first winner Marinalane so a new winner was issued. Becky! Post #135. We emailed her and hope to get this fantastic prize out to her.